[vc_row][vc_column][vc_column_text]Wie Amsterdam aandoet zal zeker een bezoek aan de wereldberoemde grachten brengen en wordt de stad niet zomaar ook vergeleken met het romantische Venetiё. Wie de grachten eens met een boot wil verkennen kan urenlang door de grachten heen varen en is het mogelijk om middels een huurbootje deze zijde van Amsterdam op eigen houtje te verkennen. Met een boot door de grachten maak je kennis met het deel van de stad dat speciaal erop gericht is op bezoekers vanuit de gracht en vindt je er bijvoorbeeld tal van restaurants en café's die voorzien zijn van een aanmeerplaats voor boten.
Een vaarbewijs is helemaal niet nodig
Integenstelling tot het landverkeer worden er bij het huren van een boot niet naar een vaarbewijs of ervaring gevraagd. Dat is wel prettig zo omdat dit de mogelijkheid voor haast een ieder biedt om ook eens een boot te mogen besturen. De boten zijn wel allemaal uitgerust met een elektrische motor om de overlast voor een ieder, zowel in de boot als langs het water, tot een minimum te beperken en mag de snelheid van zo een boot niet hoger dan 6km/u bedragen. De veiligheid van het waterverkeer wordt op zo een manier gegarandeerd en zijn er wel een aantal verkeersregels waar een ieder zich aan dient te houden. De verhuurmaatschappij zal echter met alle plezier erop ingaan en de nodige adviezen verstrekken. Er gelden ook strenge regels voor de veiligheid van kinderen en dienen die soms verplicht een reddingsvestje aan te trekken.
Ook een boot met kapitein kan worden gehuurd
Rondvaren door het netwerk van grachten kan soms wel voor wat hppfdbrekens zorgen en komt het voordeliger uit om een boot met kapitein te huren. Dit heeft als grootste voordeel dat een ieder zich volledig kan toeleggen op alles wat er te zien valt en de kapitein ook nog fungeert als gis die de beste plekjes van de stad moeiteloos zal weten vinden. De betaling geschiedt immers per uur en ben je met een kapitein ervan verzekerd dat alle tijd nuttig besteed zal worden. Het is zelfs mogelijk om op een gewenste locatie opgehaald en afgezet te worden.
Een boot huren in Amsterdam is dus de beste manier om weer op een andere wijze te genieten van de stad. Let er altijd wel op dat het verhuurbedrijf wel over boten beschikt die gekeurd zijn en dat alle regels met betrekking tot de veiligheid wel duidelijk zijn.[/vc_column_text][/vc_column][/vc_row][vc_row][vc_column][vc_column_text]
[/vc_column_text][/vc_column][/vc_row][vc_row][vc_column][vc_column_text]
Boaty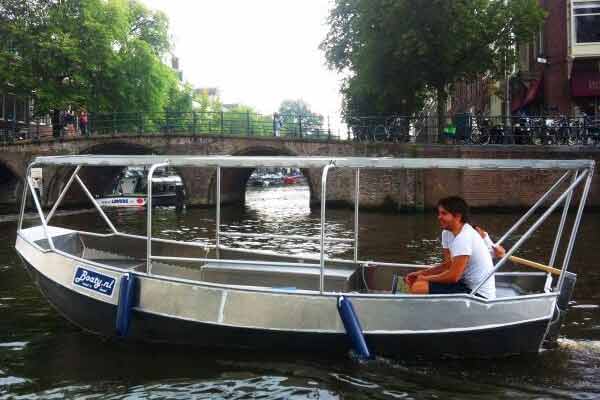 Amsterdam staat wereldwijd bekend om haar grachten en is een rondvaart zeker wel iets dat een aparte ervaring oplevert. Met een goede boot speciaal toegesneden hiervoor zal het wel te genieten worden en biedt Boaty de mogelijkheid aan om er zelf eentje te huren. Zelf rondvaren, is dus niet meer weggelegd voor degenen met een eigen boot en levert dat wel een hoge "fun" factor op vanwege de vrijheid om er zelf jouw schema te bepalen.
Waar kan je allemaal naartoe?
Bij elkaar genomen beslaan de grachten een behoorlijke afstand en zorgt dat ervoor dat je al voor een aantal uren door kunt varen. De prijs mag dus geen belemmerende factor zijn om de grachten te verkennen en zorg je er wel alleen voor dat de nodige spullen zoals drank, voeding en eventueel zwemattributen meegenomen worden. Voor het mogen besturen van de boot heb je trouwens geen vaarbewijs of specifieke ervaring nodig. Indien gewenst kunnen de nodige instructies aan het vriendelijk personeel opgevraagd worden.
Om ervoor te zorgen dat je de weg niet weg zult raken in het netwerk van grachten wordt er altijd een kaart overhandigd waarop verschillende routes aangegeven zijn. Voor de veiligheid is er ook gezorgd en behoren zwemvesten daarom tot het standaard assortiment.
Verken de Amsterdamse grachten dus op jouw eigen tempo en neem daarbij ook nog een ieder mee die het tot een onvergetelijk tochtje zullen maken. Reserveren doe je gewoon van te voren online en bieden alle bootjes plaats aan maximaal 6 personen. Geef ook direct aan of je gaat voor een geheel open of deels overdekt bootje. Bij zonnig weer of regen komt in het tweede geval het kapje wel goed van te pas.[/vc_column_text][vc_btn title="Meer informatie" color="warning" align="left" link="url:https%3A%2F%2Fwww.10beste.com%2FBoaty||target:%20_blank|"][/vc_column][/vc_row][vc_row][vc_column][vc_column_text]
Mokumboot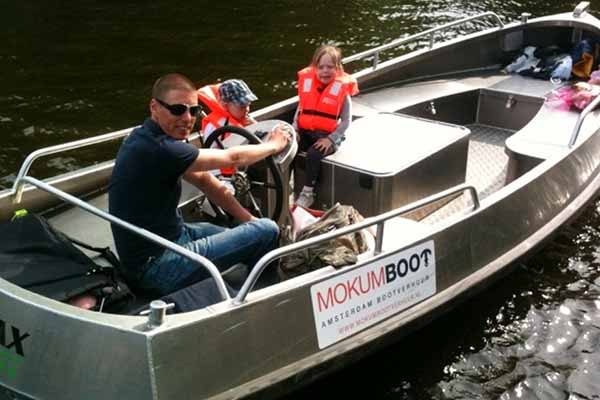 Een aparte manier om kennis te maken met Amsterdam is door dat via een rondvaart door de grachten te doen. Wie niet over een eigen boot beschikt kan er gewoon eentje huren bij Mokumboot en bieden ze een aantal keuzes aan. Het eenvoudigst zijnde bootjes die ruimte bieden aan 8 personen en die ook nog zelf bestuurd kunnen worden. Dit is wel een groot pluspunt voor degenen die altijd al zelf achter het roer hebben willen staan. Er is ook geen vaarbewijs nodig voor het besturen en zorgt de fluisterstille elektrische aandrijving voor ongestoord genieten.
Maar wat dacht je van een grotere groep?
Hoe groter de groep, hoe gezelliger het doorgaans wel is en heeft Mokumboot daar wel goed op ingespeeld. Zo kan er voor groepen tot 20 personen een sloep worden gehuurd en komt deze wel compleet met een eigen kapitein. Zo kan een ieder zich volledig toeleggen op het genieten van alles wat er te zien valt. Wie met nog meer personen de grachten wilt verkennen, kan een schip inhuren die aan maar liefst 30 personen plaats biedt. Ook deze komt uiterraard compleet met een kapitein en zijn er voorzieningen aanwezig zoals een toilet. Ook verwarming is er aanwezig en kan de boot dus prima worden gehuurd wanneer het kwik aan het dalen is.
Met maar liefst 6 verschillende ophaallocaties verspreidt over Amsterdam is het voor een ieder mogelijk een boot te huren op een plek die het voordeligst uitvalt. Bij het reserven geef je gelijk aan voor elke boottype je gaat en welke ophaallocatie het best zal uitvallen. Vergeet niet de speciale events te bekijken zoals Koningsdag waarbij er boten beschikbaar zijn om alles vanuit het water te bezichtigen.[/vc_column_text][vc_btn title="Meer informatie" color="warning" align="left" link="url:https%3A%2F%2Fwww.10beste.com%2FMokumboot||target:%20_blank|"][/vc_column][/vc_row][vc_row][vc_column][vc_column_text]
Sloepdelen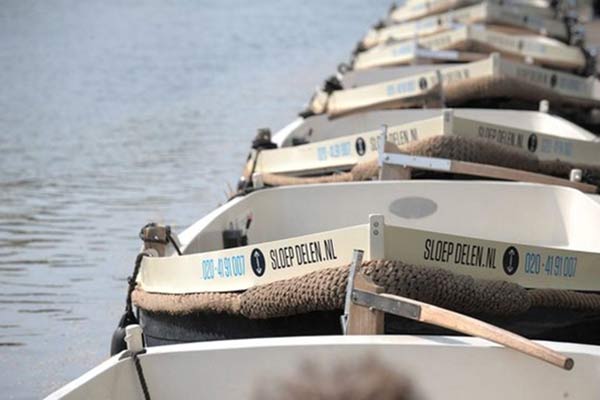 Het leuke van de grachten van Amsterdam is dat er tal van gelegenheden zijn die gewoon per boot aangedaan kunnen worden en je zo weer een heel andere zijde van deze historische stad leert kennen. Geen boot, geen nood, want bij Sloepdelen zijn er huurboten beschikbaar die plaats bieden aan 12 personen en bovendien nog fraai vormgegeven zijn. Om ervoor te zorgen dat je de leukste bezienswaardigheden niet mist is er een lijst klaargemaakt met routes die je ook langs diverse eet- en drinkgelegenheden brengt waar het mogelijk is met de boot aan te meren.
Start de boot op met jouw mobieltje
De reservering kan natuurlijk gewoon online gebeuren en krijg je een kwartier voordat de huurtijd ingaat een berichtje op jouw mobiel waarin er een link verwerkt is die gebruikt moet worden om de boot op te starten. Zeer eenvoudig dus en zijn alle boten van Sloepdelen voorzien van een elektrische motor. Niet alleen komt dit plezierig over voor de passagiers, maar heeft de krachtige motor genoeg pit om de boot moeiteloos vele uren door de grachten te manuevreren. Het besturen van de boot is eenvoudig en is er geen vaarbewijs voor nodig. Er bevindt zich genoeg ruimte in de boot om er spullen in op te bergen en geef je bij het reserveren ook gelijk aan of er reddingsvesten nodig zullen zijn.
Met het aandoen van de verschillende routes zal een rondvaart door de grachten voor een onvergetelijke belevenis zorgen. Hou bij het varen wel rekening met de regels van het water en zijn er op de website van Sloepdelen de nodige instructies te vinden voor degenen die er nog niet bekend mee zijn.[/vc_column_text][vc_btn title="Meer informatie" color="warning" align="left" link="url:https%3A%2F%2Fwww.10beste.com%2FSloepdelen||target:%20_blank|"][/vc_column][/vc_row][vc_row][vc_column][vc_column_text]
Bootverhuur Amsterdam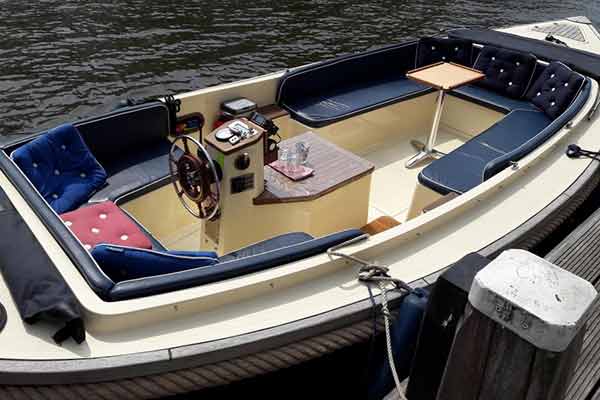 Laten we nu eens eerlijk zijn: echt genieten van een rondvaart door de Amsterdamse grachten zal je echt doen wanneer de boot door een proffesionele kapitein wordt bestuurd die bovendien nog de leukste plekjes moeiteloos zal weten vinden. Dat is ook het idee achter Bootverhuur Amsterdam en kunnen tot 8 personen plaats nemen in de leuk vormgegeven sloep. Aan luxe ontbreekt het er niet en kan er op speciaal verzoek plekken worden aangedaan die je altijd al had willen bezoeken.
Geef ook aan waar je het liefst wilt instappen
Eenvoudiger kan het misschien niet omdat het voordeel van een boot huren met kapitein wel is dat die ook in staat is op verschillende locaties de passagiers op te halen. Zo kunnen de auto's op een makkelijk te bereiken plek worden geparkeerd en vermijdt je zo wel de drukte van de stad. Eenmaal ingestapt kan er tot 5 uren lang van de rondvaart worden genoten. Wie zich helemaal wil laten verwennen geeft bij het reserveren ook aan dat er voor eten en drinken gezorgt moet worden, maar is het helemaal geen probleem als je met eigen consumptie op komt dagen.
De veiligheid van de passagiers staat hoog in het vaandel bij Bootverhuur Amsterdam en zijn alle passagiers zo verzekert. Voor kinderen worden er speciale voorzieningen getroffen zoals een verplicht reddinsvest om en wordt er gratis voor een begeleider gezorgt indien er sprake is van meer dan twee kinderen op één volwassen passagier.
De details zullen wel doorgegeven moeten worden bij het reserveren zodat alles in orde kan worden gebracht. Zelfs de hond kan mee zolang die wel op de schoot kan worden gehouden.[/vc_column_text][vc_btn title="Meer informatie" color="warning" align="left" link="url:https%3A%2F%2Fwww.10beste.com%2FBootverhuur%2520Amsterdam||target:%20_blank|"][/vc_column][/vc_row][vc_row][vc_column][vc_column_text]
Amsterdam Boothuur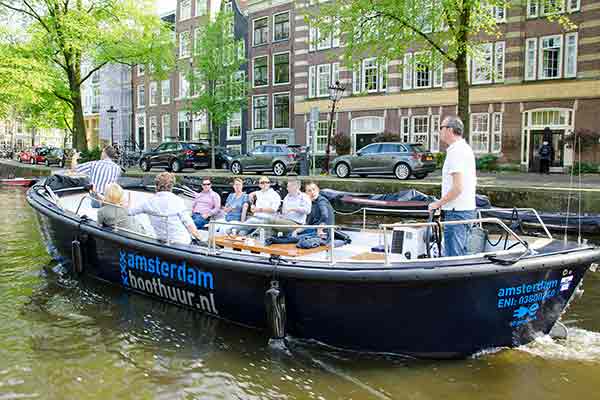 Het verkeer in de grachten van Amsterdam kan soms wel wat druk worden en zal het voor degenen die een boot hebben gehuurd en daar niet veel ervaring met het bsturen mee hebben, het wel wat zwaar worden om de boot te kunnen navigeren door het drukke verkeer. Amsterdam Bootverhuur biedt daarom sloepen, een rondvaartboot en zelfs een luxe salonboot te huur die allemaal natuurlijk met hun eigen kapitein komen. Wie er toch verzekert van is dat het zelf besturen geen problemen zal opleveren kan er toch voor kiezen een boot te huren zonder kapitein.
Wat hebben de boten allemaal te bieden?
Het is luxe ten top met de rondvaartboot en kan die compleet met een volledig verzorgt cateringspakket worden gehuurd. De passagiers worden er dus op hun wenken bediend en is de boot geschikt voor het maken van een rondvaart in alle seizoenen. Wifi en een toilet ontbreken er natuurlijk ook niet. Wie het wat eenvoudiger aan wilt doen kan ook een sloep huren en kunnen die respectievelijk tot 45 en 32 personen maximaal bevatten. De kapitein tevens gids zal de sloep moeiteloos door de grachten kunnen dirigeren en is een koelbox met ijs altijd inbegrepen. Bekijk ook de diverse cateringsopties en kan Amsterdam Bootverhuur ook voor de volledige eet- en drankbenodigheden zorgen.
Een leuke ervaring biedt ook een rondvaartboot en kunnen tot 40 personen een apart avontuur beleven. Er bevindt zich er een bar met buffet en zijn er ook een muziekinstallatie en toilet aan boord. Wacht dus niet langer met het reserveren en kan er zelfs voor zakelijke doeleinden een boot worden gehuurd.[/vc_column_text][vc_btn title="Meer informatie" color="warning" align="left" link="url:https%3A%2F%2Fwww.10beste.com%2FAmsterdam%2520Boothuur||target:%20_blank|"][/vc_column][/vc_row][vc_row][vc_column][vc_column_text]
Boats4rent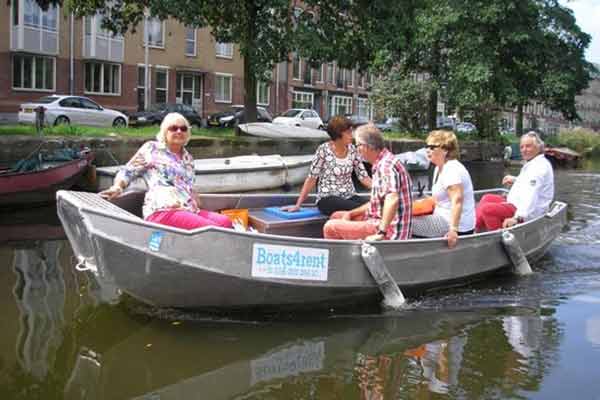 Op jouw eigen tempo de grachten van Amsterdan verkennen kan het best door een bootje te huren die zelf bestuurd kan worden. Je bent zo lekker je eigen baas en zijn de boten van Boats4rent allemaal uitgerust met een elektrische motor die geruisloos haar werk doet. Met een huurboot bepaal je gewoon jouw eigen route en is wat prettig gezelschap daarbij geen slecht idee. Zelfs zonder een vaarbewijs en geen ervaring op het water kunnen de boten van Boats4rent door eenieder worden bestuurd. De boten bieden plaats aan 6 personen en is er dus genoeg plaats voor een ruim gezelschap.
Je kunt ook de speciale routes afgaan
Wie toch liever van te voren wil weten welke plekken het best aangedaan kunnen worden (het zijn er nogal wat) kan ook advies inwinnen bij Boats4rent en krijg je ook een speciale route kaart mee. Eenmaal op het water kan de boot tot een maximum van 10 uren worden gehuurd en hoef jij je daarbij geen zorgen te maken dat de batterij leeg zal lopen. Alle pret kost je ook geen arm en been omdat de tarieven laag gehouden zijn. Voor speciale gelegenheden zoals de Gay Pride en Koningsdag zijn de boten uiterraard ook beschikbaar en maakt de gezelligheid op het water de belevenis natuurlijk nog interressanter.
Reserveren doe je gewoon online, maar is het ook mogelijk middels een telefoontje gelijk aan een boot (indien beschikbaar) te komen. De afhaallocatie is ideaal gelegen aan het Westerpark en is parkeren er geen probleem.[/vc_column_text][vc_btn title="Meer informatie" color="warning" align="left" link="url:https%3A%2F%2Fwww.10beste.com%2FBoats4rent||target:%20_blank|"][/vc_column][/vc_row][vc_row][vc_column][vc_column_text]
Adam's Boats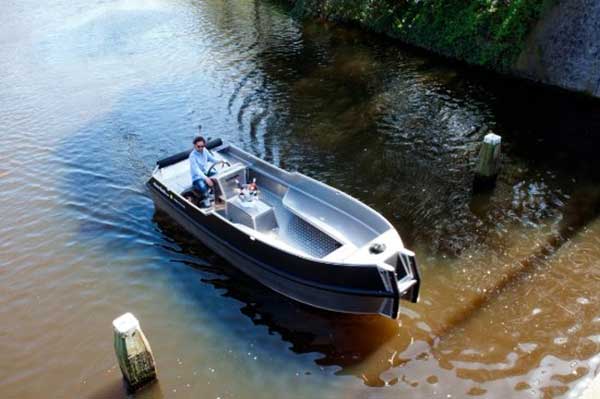 Varen tegen een vast tarief, ongeacht het aantal inzittenden en de duur van de tocht is mogelijk bij Adam's Boats en zorgt deze manier van bootverhuur dat je vooraf goed kunt plannen wat de kosten exact zullen zijn. Met maximaal 9 personen die plaats mogen nemen in de boot kunnen de kosten ook worden gedeeld en komt zo een boottochtje dan wel bijzonder voordelig uit! Elke boot beschikt verder over een ruime opslagruimte voor de bagage. Komt de dag die je aangegeven hebt op de reservering je niet meer geschikt uit, dan kan de datum kosteloos worden verschoven.
Geen vaarbewijs nodig
Voor het besturen van een huurvaartuig van Adam's Boats is er geen vaarbewijs nodig en is de snelheid van de door een elektrische motor aangedreven boot gesteld op maximaal 6km/u. Dat is echter ruim voldoende om de grachten en alles eromheen te verkennen. Wie niet precies weet welke route er gevaren moet worden kan ook een beroep doen op een vaarkaart of van te voren goed informeren welke route het best genomen kan worden.
Adam's Boats biedt ook de mogelijkheid om een abonnement af te sluiten waarbij je tegen een vast jaarlijks bedrag te allen tijde kunt beschikken over een boot. Je hebt er dus verdre ook geen omkijken meer naar en is zo een abonnement bijzonder aantrekkelijk voor zij die regelmatig wat vertier willen opzoeken op en langs de grachten.[/vc_column_text][vc_btn title="Meer informatie" color="warning" align="left" link="url:https%3A%2F%2Fwww.10beste.com%2FAdams%2520Boats||target:%20_blank|"][/vc_column][/vc_row][vc_row][vc_column][vc_column_text]
Slot
De grachten van Amsterdam verkennen is binnen ieders bereik dankzij het tal van bootverhuurbedrijven en is het leuke ervan dat er al helemaal geen vaarbewijs nodig is om zo een huurboot te besturen. De grootte van de boten varieert wel per verhuurder en bieden ze allemaal ook de nodige instructies aan om niet alleen veilig op het water te kunnen navigeren, maar ook de beste plekken aan te kunnen doen. Het is mogelijk om samen met de boot ook eten en drinken te bestellen bij het verhuurbedrijf en wordt alles als één pakket aangeboden. Zo biedt Bootverhuur Amsterdam die mogelijkheid aan en is het natuurlijk ook mogelijk eigen consumptie ook gewoon mee te nemen.
Bootverhuur Amsterdam pakt het anders aan en worden er daar alleen boten verhuurd inclusief een kapitein. Dat is een ware uitkomst voor zij die ongestoord willen genieten van de Amsterdamse grachten en bovendien ook nog op een aangegeven locatie opgehaald willen worden. Voor grotere groepen beschikt Mokumboot over sloepen die tot 30 personen kunnen bevatten en kunnen gezelschappen tot wel 45 personen plaats nemen in de boten van Amsterdam Bootverhuur.
Een leuke ervaring wordt ook geboden door Amsterdam Bootverhuur met hun luxe salonboot of rondvaartboot.
Een bootje huren in Amsterdam is dus door een ieder weggelegd en bestaat er de mogelijkheid er eentje met kapitein, maar ook inclusief een hapje en drank te huren. Door gebruik te maken van de bijgeleverde kaart of instructies kan een ieder de leukste plekjes snel vinden. Kijk ook uit naar de speciale aanbiedingen voor hoogtijdagen zoals Koningsdag en bij de Gay Pride.[/vc_column_text][/vc_column][/vc_row]